Welcome to our web site!
We are committed to helping parents and citizens of New Mexico really understand what the education "reforms" mandated by Gov. Martinez and her education secretary-designate Hanna Skandera really mean.
Latest Stories about Stand4KidsNM and our efforts to educate parents about the truth behind Gov. Martinez and Hanna Skandera education policies:
http://krwg.org/post/stand4kidsnm-state-education-policy-critics-gagged-and-silenced
http://www.livingindialogue.com/opposition-researchers-target-new-mexico-facebook-education-activist/
http://krwg.org/post/nea-new-mexico-files-suit-against-public-education-department#.VCTjG2d09HM.twitter
http://dianeravitch.net/2014/09/25/new-mexico-cody-reports-on-effort-to-intimidate-parent-activists/
The below webisode was filmed at an Albuquerque education forum sponsored by the Gary King campaign. None of us parents or teachers were paid to do this!!! (That's a disclaimer to the GOP lawmakers who are attacking our rights to use free web sites and social media to advertise our disdain for Gov. Martinez education policies.)
Opposing Viewpoints
Education Reforms mean different things to different people: the politicians and the people they are impacting with their money-driven policies. Read two opposing views:
1. This is written by N.M. Education Secretary-designate Hanna Skandera and her Chiefs for Change comrade, TN Education Commissioner Kevin Huffman: Washington Post opinion column July 24, 2014
2. This column is written by two moms, N.M.'s Kathy Korte and Tennessee's Jennifer Proseus. Both moms are helping lead the fight against Skandera-Huffman deforms in our schools: Rio Rancho Observer column Aug. 10, 2014
Fighting for Gary King
To our critics, we have two choices in November. We can stand with the current governor, who has allowed her secretary-designate of education Hanna Skandera to sell our kids to the highest test maker and has moved millions of dollars to the Public Education Department instead of allocating it fairly among the state's school districts;
OR
We can stand with Democrat candidate Gary King. Stand4KidsNM stands proudly with King. Why?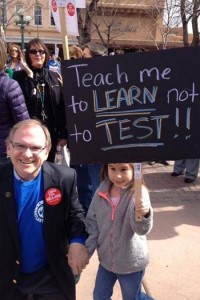 1.Gary King is listening to us. Not only is he listening to us and our stories about what these deforms are doing to kids and teachers, he is actually traveling the state to hear all of the stories about education. He embarked on a listening education tour because we asked him to. We wanted him to see that it just wasn't Albuquerque parents and teachers who had these concerns!
2. Gary King believes as we do that the constitution requires a qualified educator to hold the position of Secretary of Education. Hanna Skandera is a policy wonk. She is not an educator.
3. Gary King believes as we do that the testing nightmare imposed on kids is wrong. There are social solutions to improving education. With New Mexico ranked 49th in child welfare under Gov. Martinez (KidsCount), we must address poverty in our state in tandem with solid education policies that help our students.
4. Gary King is opposed to rating teachers based on a Value Added Model, or VAM, that uses student test scores to grade teachers.
Read more about Gary's vision for education in New Mexico: http://www.garykingforgovernor.com/gk-issues/fighting-for-our-kids-schools-and-teachers/
Join King and Stand4KidsNM. Let's change the current deforms that put our taxpayer dollars into the hands of corporations that are raking in millions to test our children and demoralize our teachers. Let's say NO to Martinez and Skandera TOGETHER.
Learn more about Gary King here: http://www.garykingforgovernor.com/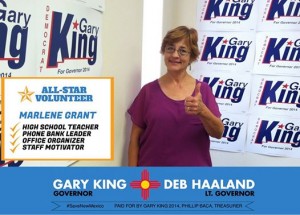 Also, you may want to read more about what Stand4KidsNM did during the recent legislative session in January. Read our daily letters to lawmakers here. They really sum up the issues we face as parents, teachers and students: S4KNM_emails_Legislative Session 2014
And here are documents that explain the budget and why we oppose more of our taxpayer dollars going to the Public Education Department:
Below the Line Spending by the Public Education Department: PED Language_SB313_final budget
Above the Line Spending for Districts: Public School Support_SB313_final
Table of SB313, the state budget: sb313 Table
You can contact Stand4KidsNM co-founders on our Facebook page: www.facebook.com/stand4kidsnm